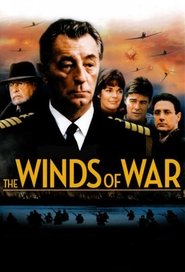 The Winds of War Free Online
The Winds of War is a 1983 miniseries that follows the book of the same name by Herman Wouk. Just as in the book, in addition to the lives of the Henry and Jastrow families, much time in the miniseries is devoted to the major global events of this period. Adolf Hitler and the German military staff with the fictitious general von Roon as a major character is a prominent subplot of the miniseries. Winds of War also includes segments of documentary footage narrated by William Woodson to explain major events and important characters.
According to the DVD-featurette "From Novel to Television," The Winds of War became a smashing television success, and a US national television event as never seen before. It was followed by a sequel War and Remembrance in 1988, also directed by Dan Curtis.
Genre: Drama, War & Politics
Director: Dan Curtis
Actors: Alexander Kerst, Ali MacGraw, Anton Diffring, Ben Murphy, Bill Woodson, Chaim Topol, Charles Lane, David Dukes, Dragomir Stanojević, Elizabeth Hoffman, Elke Sommer, Ferdy Mayne, Günter Meisner, Howard Lang, Jan-Michael Vincent, Jeremy Kemp, Joachim Hansen, John Houseman, Lisa Eilbacher, Peter Graves, Polly Bergen, Rainer Penkert, Ralph Bellamy, Reinhard Kolldehoff, Robert Mitchum, Sky du Mont, Victoria Tennant, Werner Kreindl, William Woodson, Wolfgang Preiss